Luxury Vinyl Tile Complete Care Program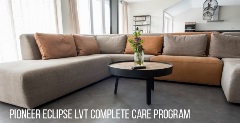 A common reason to buy LVT is to avoid the coating and stripping cycles to save money – based on the misconception that "no maintenance is required". However, a low maintenance program of cleaning, coating and occasional stripping is recommended and beneficial to extend the life of the floor surface.
Properly maintaining the wear layer of LVT is paramount to keeping the floor material in pristine condition and ensuring a long life. The processes of cleaning, stripping, and recoating LVT are the same as other resilient floor types, however, the right chemicals must be used. The goal is to extend the life of the wear layer without damage or discoloration.
Pioneer Eclipse LVT Complete Care Program:
Cleaning LVT: Neutral pH cleaners remove embedded dirt and soil that can cause scratches, extending the life of the finish and/or wear layer.
Protecting LVT: Low maintenance coatings that are easy to repair and strip protect the wear layer from scratches and degradation.
Stripping LVT: A low pH stripper reduces the risk of discoloration or damage to the wear layer.

Download LVT Complete Care Program detailed brochure to learn more.